--.--.--
--
--:--
上記の広告は1ヶ月以上更新のないブログに表示されています。
新しい記事を書く事で広告が消せます。
trackback -- |comment -- |
記事編集
2011.07.30
Sat
15:57
The boys have settled in quickly and have even got used to the different food....no complaints so far, but I must say some of the meals are not very inspiring and reinforce the image of Britain having poor food!
Maybe mealtimes, though, are just as much fun as what goes on in the classroom and during the various activities. They all enjoy their visits to the dining hall.
Anyway, I don't think anyone will starve, even if they are missing their mothers' cooking!
Everyone, including this young man, appears to be happy and content...we even heard one boy (not this young man) saying to hi friends that he doesn't miss anything in Japan and wants to stay in Edinburgh and start going to Fettes!
There's always something to do everyday and always someone interesting to do it with..... It exhausts the staff-just being there all the time and accompanying the boys can be tiring after 18 hours on the go every day. Phew!!!
Every evening, something different happens....... yesterday there was a disco dance.
A couple of nights ago, we had a Highland Games evening-it's very strange how a little bit of paint on each face helps individuals to drop their inhibitions and allow them to join in the fun completely.
In Scotland, up in the Highlands (the mountainous northern half of the country), people have their own idea of "games"....Tokai boys, perhaps, have never before tried "tug-o-war", 'tossing the caber' or doing a "3-legged race" but that didn't stop them. Faces were painted red, blue, green and yellow for each team and they all competed against each other this way. Great fun was had by all.....it was a long summer evening's fun when the sun didn't go down until very late.
They were still playing these games well after 9:30pm. I don't think they were aware that it was so late.
Eventually, when they did go to bed, they slept like cabers (logs) themselves after such a long day. So did the staff!
Seven of our boys were lucky to go to the castle on a day when the sun shone long and hot, all day. The other half of our group had to unhappily suffer the only wet day we've had here so far. They are learning very quickly how changable the weather is in Britain...after that one day of constant rain (like a typhoon) the sun reappeared and has been shining constantly once again.
Going into the city is a special event for them and one day we all piled onto the bus and took over the top deck. They loved being able to see everything from high above the road.
I have no idea what the other ordinary passengers thought but it was a fun trip into the city for an evening's look around the "Old Town" with Archie.
Archie is a true Scot and often wears a kilt. Usually, people wear kilts here the way kimono are worn in Japan-for special ocassions. But often young men wear them casually. They are comfortable, very free-feeling and also very cool to look at.
Many visitors buy cheap ones in the tourist shops to take home. I think our boys liked the look of them too.
We spent a couple of hours looking around the oldest part of the city and of course visited the statue of David Hume, the famous philosopher..
He postulated for the first time in history that man was capable of solving any problem by the application of science. These days, it's become lucky to rub Hume's big toe, as it is said the application of a good polish makes it possible to pass your exams! Tokai boys all gave it a good long hard rub!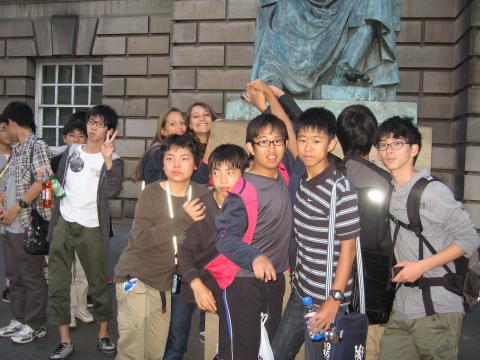 David Hume's philosophy brough on the "Enlightenment" which underpins the ideas that make all of us today, whether in Japan, America or in Europe, "modern". Another Edinburgh site, that also assisted in this revelation taking hold so firmly in Edinburgh is Anchor Close, home of publishing, where, among other important books published here, was the first Encylopedia-the world famous "Encyclopedia Britannica". We certainly do live upon the shoulders of giants......many of whom came from Edinburgh!
Imasato-sensei arrived yesterday. Ito-sensei will be going to Ireland tomorrow evening to visit Patrick and the other Tokai boys who are studying there. He arrived safe and sound but was very tired after such a long journey. I gave him a quick tour of the school soon after he arrived.
It was inevitable that at least one of our boys would buy a kilt.
There were many kilts bought yesterday when everyone had a free afternoon to go into town to see the shops.
Boy's wearing kilts do not put the girls off at all! In fact, many girls like to see boys in kilts.......Nori appears to have become very popular since buying his!
This morning the Spanish contingent left for home. It was sad seeing many hugs and long faces as everyone said their farewells to each other. It was touching to see the strong friendships that had developed between our boys and the other Spanish children in just a week.
After the Spanish children had left for the airport, our boys joined some other European students for a bus trip to Stirling...the old capital of Scotland where they would visit yet another historical site or two and see the old town there.
Sasha, an activity leader, who is from Toronto, Canada, is seen here checking everyone onto the bus to make sure all are present.
They are, as I write this, about to leave Stirling. Imasato-sensei has just sent us a message. Ito-sensei leaves for Dublin and Imasato-sensei will spend his firs day alone with the Tokai boys, visiting a Museum and Scotland's Seabird Centre.
The day is long and full of different things to do.....everyone appears very happy, boys are getting more confident to speak English freely with anyone and a very happy atmosphere exists around the place....so far, so good!
スポンサーサイト
category: 東海生エディンバラ便り
thread: イギリス語学留学
janre: 海外情報