--.--.--
--
--:--
上記の広告は1ヶ月以上更新のないブログに表示されています。
新しい記事を書く事で広告が消せます。
trackback -- |comment -- |
記事編集
2010.12.08
Wed
13:14
It's December again, already, and there's not much more than two weeks to go until Christmas Day.
Thinking about this year and wondering where it went an old saying comes to mind; "Time flies when you're enjoying yourself!" It must be true as Kayoko and I have had a very good year doing all sorts.
Looking back, it hardly seems a whole 'twelvemonth' has gone. Here are just a few memories from it...........................
It all began with a huge "freeze" with more snow than I'd ever seen in Britain.....it was more like the way it was long ago in my early daysof teaching, in the north of Sweden. It snowed non-stop for a few days and then it all just stayed put, under a beautiful clear icy blue sky. I loved it, though getting into town was difficult-we couldn't take the car out and buses didn't run very regularly.
At the same time, Amy and our grand daughter, Yui visited from Kyoto, Japan, along with Mari and our grandson, Harry, up from London. It'd been a long time since we'd had a full house and for the first time in years it was full of small children. It was all new and very heartwarming for the two of us. We loved it.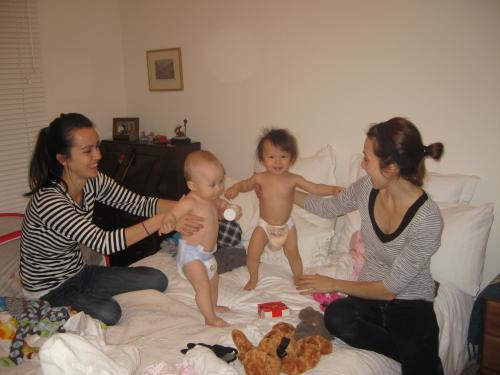 We also hosted a lot of visitors from Japan during the year and feel lucky that we had such an interesting range of people; between February to October, young and old, singles and couples, from all over Japan came and went-we were busy. We also looked after a group of young high school boys from the school I taught in when I was in Nagoya (2004-2009) which was great fun. They stayed for two weeks in the middle of the summer and were not only young gentlemen but also seemed to be interested in absolutely everything. I think their parents, as well as their school, can be very proud of them. We are looking forward to another cohort coming to Edinburgh next summer again. We looked after a married couple for a week and quite a few friends shared their time with us through the summer, while two students, one in the spring and another at the end of summer, came and stayed with us for a whole month at a time.
We toured the country quite a bit ourselves too. We went to Devon, in the south-west of England where my sister and brother-in-law live in a lovely old farmhouse deep in the countryside; we love visiting the area and staying with them is always fun. While there, my older sister and her husband also came down from their home, near London a two hour trip for them.
Other members of our family also came visiting while we were there and one day, to celebrate two birthdays, we had a big family 'get-together' with almost 20 family members coming together for an afternoon of "blether" and "cathing up". Here in the picture you can see most of us sitting in my sister's sitting room, eating cake and playing with the newer members of the family, along with the dogs.
On another excursion, we visited the Borders. Once upon a time, this area of Scotland, along the borders with England was both wild and dangerous, with raiders from England, just over the hills to the south, coming and stealing cattle, burning villages and pillaging what they could. Scots would also go off and do the same on the other side of the border. Today, it is not only a unique historical place but also a peaceful, beautiful one with its own special atmosphere. The view in the photograph was, a hundred and fifty years or so ago, a favourite one for Sir Walter Scott, one of Scotland's greatest sons and writers, who lived ina lovely house at the foot of the hills. Today, it's a museum for all who love his books.
Perhaps due to the harshness of the winter last year, the summer brought forth an amazing abundance of colour everywhere. Even in our garden, owned by people not particularly skillful in horticulture, the grand array of colourmade a big impression on us.
This summer, everyone wanted to spend as much time under the sun as they possibly could. The long days, especially in the centre of Edinburgh made for a real holiday atmosphere very easily and people were out sunning themselves at all hours right up till 9 or 10 o'clock in the evening. It really is the truth that when the sun shines on Edinburgh there are few places in Europe that beat it for beauty. It really is a wonderful place to live.
We also stayed with friends who have a wonderful house right on the coast, just north of Edinburgh in the well-known "East Neuk of Fife", a truly beautiful secret destination that, outside of Scotland, is mostly unknown as a holday destination. In the morning we could simply open the curtains and look south across the dunes and golden beach, over the waters of the Firth of Forth to East Lothian and the city itself with the hills of the Borders just noticable on the horizon. A truly magnificent view.....worth a million dollars to my mind.
Walking along the beach to the village shop to pick up freshly baked croissants and a newspaper is a very pleasant way to start any day. Merely being able to do it occasionally is a blessing not to be dismissed. The long summer evenings would see us in the garden sharing drinks and a BBQ, after a day of long walks and plenty of chat. More than relaxing......
London was also on our list of places visited. While there I had to take a bus ride across the city froma friend's place in Chelsea to my daughter, Mari's apartment in West Hampstead; doing this on a double-decker made for a tourist opportunity that would otherwise have been a long chore of real drudgery.
We also went to a once-upon-a-time fishing village, down on the Devon/Dorset border, while visiting the area for a second time at the start of the autumn. Lyme Regis, famous for being a location in the movie "The French Lieutenant's Woman", is very pretty, as was Beer, another lovely little village, still able, in these modern times, to maintain its own fishing fleet, not far away along the coast. Fresh fish here made a for great lunch.
The warmer weather, full of cream teas and fresh fruits slowly came to an end but these simple luxuries seem to live on in one's mind.
Many of our visitors wanted to learn how to make scones and sample real West Country clotted cream, (it seems impossible to get such delights outside of Britain), and this was all very good for me. I always tagged along, had my fill and now regret it a little for the extra weight I am now carrying around with me!
Other memories are numerous...a number of visits to a little cafe run entirely by volunteers in our local parish church. It's called The Swing, named after an old swing still in use in the garden of the manse. It is strapped to a bough of an ancient Yew tree (over 1,000 years old) where, 150 years ago, Robert Louis Stephenson, whose grandfather, at that time, was the minister here. RLS often came and stayed here in Colinton as the air was better for his health than the "Ault Reekie" smoke-filled air of Edinburgh. He wrote a poem, "The Swing" about it in his famous book of poetry "A Child's Garden of Verse".
I also made a visit to a couple of very small vilages, close to Bristol, where my ancestors, on my father's side, all came from. I was quite humbled to discover the tomb of my great great great grandparents, Thomas and Pheobe Hardwick at the main door of SS Peter & Paul Parish Church in the heart of Weston-in-Gordano, as well as other graves of even older ancestors, all grouped together by the main path, near the east end of the parish church in Clapton-in-Gordano, not a mile away, on the other side of the Latinised 'gory dene' or, in modern English, the muddy valley.
We managed a trip to Japan in the autumn as well. Kayoko's mother was 80 in October, Erin, our youngest daughter, went to work in Nagoya for 5 months at the 'Aichi Trienalle 2010', a big artists' exhibition where the famous Japanese artist, Yayoi Kusama, exhibited in a big way.
We saw friends and familiar faces as well as our grand daughter, Yui, again. She'd grown a lot since last Christmas. What's more, we were very fortunate, while visiting with Amy's family in Kyoto, to visit Tofuku-ji, an old and remarkably beautiful Buddhist temple complex, to see the fullness of autumn's colours there. it was my first time and a big surprise that in all the years I have been going this remarkable city I was still able to discover a new and wonderful place that I had never been to before.
But before we knew it, we were back in Scotland and once more almost immediately into a snow storm unlike any we had experienced before, more severe than twelve months ago. After almost two weeks of upheavals and real chaos, the city fathers, unable to keep up with the regular falls of snow upon snow, have now brought in the army to assist with clearing away routes through it all for emergency services.
In Japan, I have heard many people say that life's a circle! For us, this year at least, it has proved to be true. Back under bright blue skies, with snow permanently underfoot, the way the year began, it seems as if we are back again the way we started this time last year. The time has flown by and all the fun and activities we had through the year now seem unreal and imagined. I wonder what the next circle of life will bring in the future
Here's to a very Merry Christmas to all readers. Peace, prosperity, health and happiness to you all in the coming new year.